Septic System Inspections Central Colorado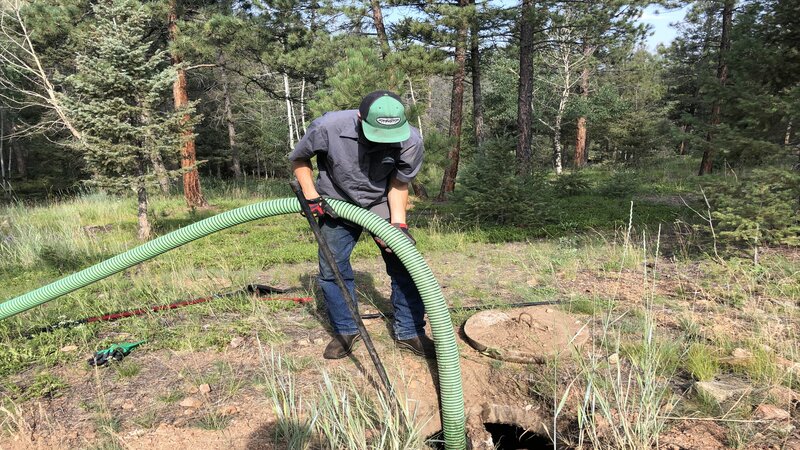 Central Colorado Septic System Inspections
You must take care of your septic tank. Regular maintenance such as pumping and inspecting your system regularly will ensure that they work properly and don't cause any future problems.
Ley Septic Service specializes in sewer and septic system inspections. Our headquarters is in Pine, Colorado. We can send one of our trucks and an experienced septic inspector to Conifer, Evergreen, Bailey, Idaho Springs Pine, Pine, and Morrison Colorado. We can inspect your system and determine if there are any potential problems.
How do our Septic Inspections work?
Our first part of the septic inspection is a consultation with you, the homeowner, or the property owner. We need to know the number of bedrooms in your home, the age of the septic system, and any maintenance that has been done. This information will help us to understand what to look for in regards to your septic tank or your leach field.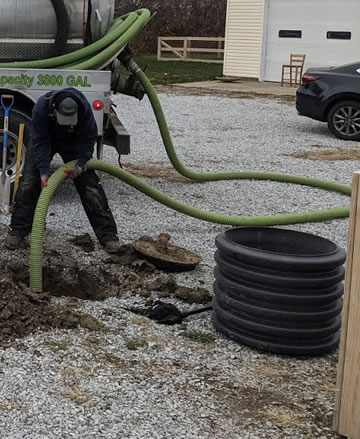 This tank will be having a riser installed after pumping. This will prevent having to dig in the future.
How to Locate Your Septic Tank and Leach Field
While most homeowners know where their septic system is located, it is possible to lose this information if your property or home is older and has been sold many times.
It's common for a septic system to become "lost" as properties get overgrown, ads are made, landscaping is performed, and land layout changes occur. It can work, but nobody knows where it is. There are many methods we can use to locate your tank and all of its components. Sometimes this involves digging with shovels and our mini-excavator.
It's a smart idea to install a septic raiser if we have to dig for your septic system. The septic tank will be easier to find and access. As part of our services, we can also install septic tanks risers.
Visual Inspection of the Tank & System
Although there isn't much you can see inside a septic tank, a trained eye can spot many signs that could indicate the health of your system. Cracks in tank walls are easier to spot after pumping. We also look for clogged tank baffles and missing or clogged effluent filters. We will also flush your toilets to determine the flow of wastewater into the tank.
After performing a thorough visual inspection, we can use a special tool for checking the layers of scum and other sludge in your tank.
Scum Layer: Your septic system's top layer is called the scum layer. It may look very heavy at first, but it should be very similar to soil. If you see worms and bugs calling the sludge home, it is an indicator that your tank is functioning properly and is breaking down waste. It's a sign that your tank needs to be pumped if the scum layer is too thick or close to the tank lid.
Sludge LayerThe solids that have built up at the bottom of your tank's tank are called the sludge layer. We generally aim for a sludge layer no greater than 12 inches deep. However, this will depend on how often it is used and the size of your system. A tank with too much sludge can cause system problems and may require a pump to remove it.
We can inspect the distribution box and report any issues for an additional charge. To check for any problems such as soft ground or pooling water, we will inspect your septic field.
Inspection of Your Septic Pump and Float Systems
A pump is not necessary if your system is gravity fed. A septic dose pump will be required if your system is pumping effluent up slopes or using a pressurized system. We inspect your septic pump for potential problems:
Inlet screens that are blocked or clogged
Broken or clogged impellers
All wiring and electrical problems
Performance and reliability of the float switch or timer
To schedule an appointment to inspect your septic tank and septic system, please Call (720) 312-7084 or fill out the online contact form.