Septic Tank Pumping & Septic Services Throughout Central Colorado.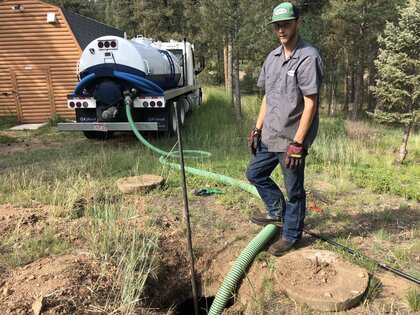 Ley Septic Service is a company that provides septic pumping services for Central Colorado. It is located in Pine, Colorado. We also service areas of Conifer Colorado, Evergreen Colorado, Bailey Colorado, And Morrison Colorado.
Our services include septic tank pumping and RV park septic pumping. We also specialize in lift station pumping and repairs. Our team can assist you with septic system maintenance, septic tank inspections. We also specialize in all septic system repairs and troubleshooting.
The septic system is an important component of your property. Many property owners take it for granted. It is easy to overlook something when it doesn't happen every day. It's easy to assume that your system will work, but if it doesn't, you must act quickly. Ley Septic Service is here to protect and maintain your septic system at the highest level.
We have several high-capacity pumps trucks, and a hands-on owner to help you with any complex septic system issues. Ley Septic Service can provide excellent service and advice, no matter if you are looking to pump your septic tank out or diagnose any problems you might be having with your system.
To schedule your septic service, please call (317-537-9304) or complete our online contact form. We'll be happy to assist you.