Septic Tank Pumping Service Central Colorado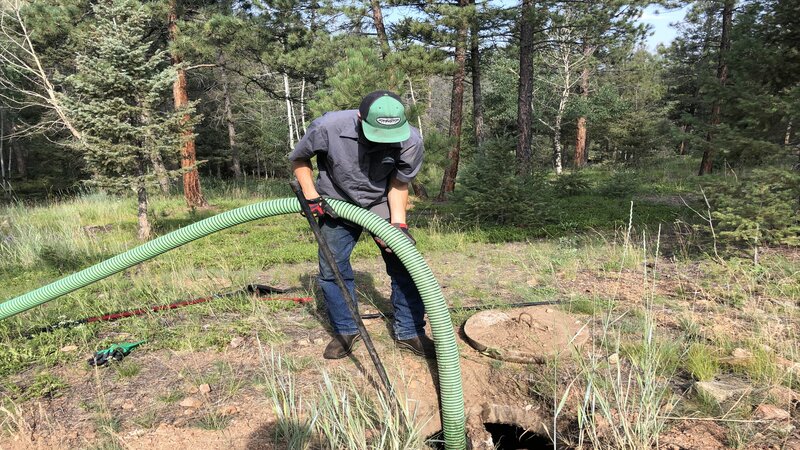 Septic Tank Pumping Services Central Colorado
Septic systems are an important option for rural Colorado homeowners to treat sewage and wastewater. Colorado currently has more than 900,000. Colorado's local health departments issue over 17,000 permits annually for new systems. About 9,000 permits are issued for repairs. Septic systems are an important method for wastewater treatment.
Your household will be able to dispose of waste in an environmentally friendly manner if the septic tank is properly maintained. Your home's septic tank is an essential part of the overall operation of your building or home. Failure to maintain your septic tank can lead to costly repairs that could cost you anywhere from $15,000-$30,000. It is important to pump out your septic tank every 3 years. This will ensure that your system continues to work well for many years.
Ley Septic Service, a company that provides vacuum truck services, specializes in the removal of septic tanks. We are based in Pine, Colorado, and can send one of our trucks out to pump septic tanks there, Idaho Springs Conifer, Morrison Evergreen, Bailey.
Your Septic Tank and Septic System are Your Responsibilities
A septic system has a major disadvantage: you can't forget about it (even though it's easier to do so when it's not in your sight). It is the homeowner's responsibility to ensure that their septic system operates safely and properly. Regular maintenance is essential to ensure that the septic tank is clean and free of solids. Get to know your septic system, including the location of key components. Know the location of your septic tanks and clean-outs. Also, know where your distribution box is. It is common for older properties to lose track of the location of the tank or field after they have been sold several times. If this is the case, we can offer a septic tank location service.
Common Septic Tank Sizes
There are many sizes of septic tanks in Central Colorado. We are often called to pump out septic tanks ranging from 600 gallons up to 1500 gallons. Your tank should be able to hold more water than your home's bathrooms.
When should you pump your septic tank?
It is a good idea at least to inspect your tank once per year. If you have the location of the tank and the lid, you can inspect it yourself. Or you can hire a Ley Septic Service technician to check the level of liquids or solids. Regular inspections of your septic drain field should be done to check for any odors and water pools.
Most septic systems need to be pumped out at least once every 3 years, depending on how often they are used. Other factors could influence the frequency of your septic tank pumping out. Your tank technician may recommend increasing your frequency of pumping out your septic tank. Your septic system will last longer if you are careful with water conservation and do not flush any harmful items down your drains (such as grease, baby or flushable wipes, and feminine hygiene products). However, it is best to have a professional inspect your tank.
What is the cost to pump my septic tank?
Our septic tank pumping cost can vary depending on how far we have to travel, the size and location of your tank. Costs for disposal can vary depending on where the dumpsite is located. Pumping a tank requires trucking both ways, liquid pumping, a quick inspection of the tank, and disposal of the sewage at the appropriate facility. Our pricing is very competitive, and our service is unmatched.
Ley Septic Service Pumps Out Septic Tanks In Central Colorado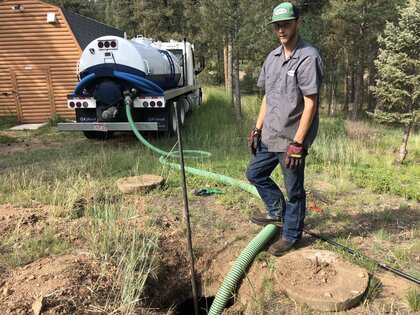 Ley Septic Service is a septic pumping and services company based out of Pine, Colorado, and provides septic services throughout Central Colorado including areas of Conifer Colorado, Evergreen Colorado, Bailey Colorado, Idaho Springs, And Morrison Colorado.
We specialize in septic tank pumping, septic system inspections, septic pumps, lift station pumping, and septic system repairs and replacements. If you need septic system maintenance, troubleshooting, or repairs, Our team can assist you in keeping your system running smoothly and without any problems.
If you'd like to receive a quote to pump out your septic tank or holding tank please give us a call (720) 312-7084 or fill out our contact form and we'll get right back to you.